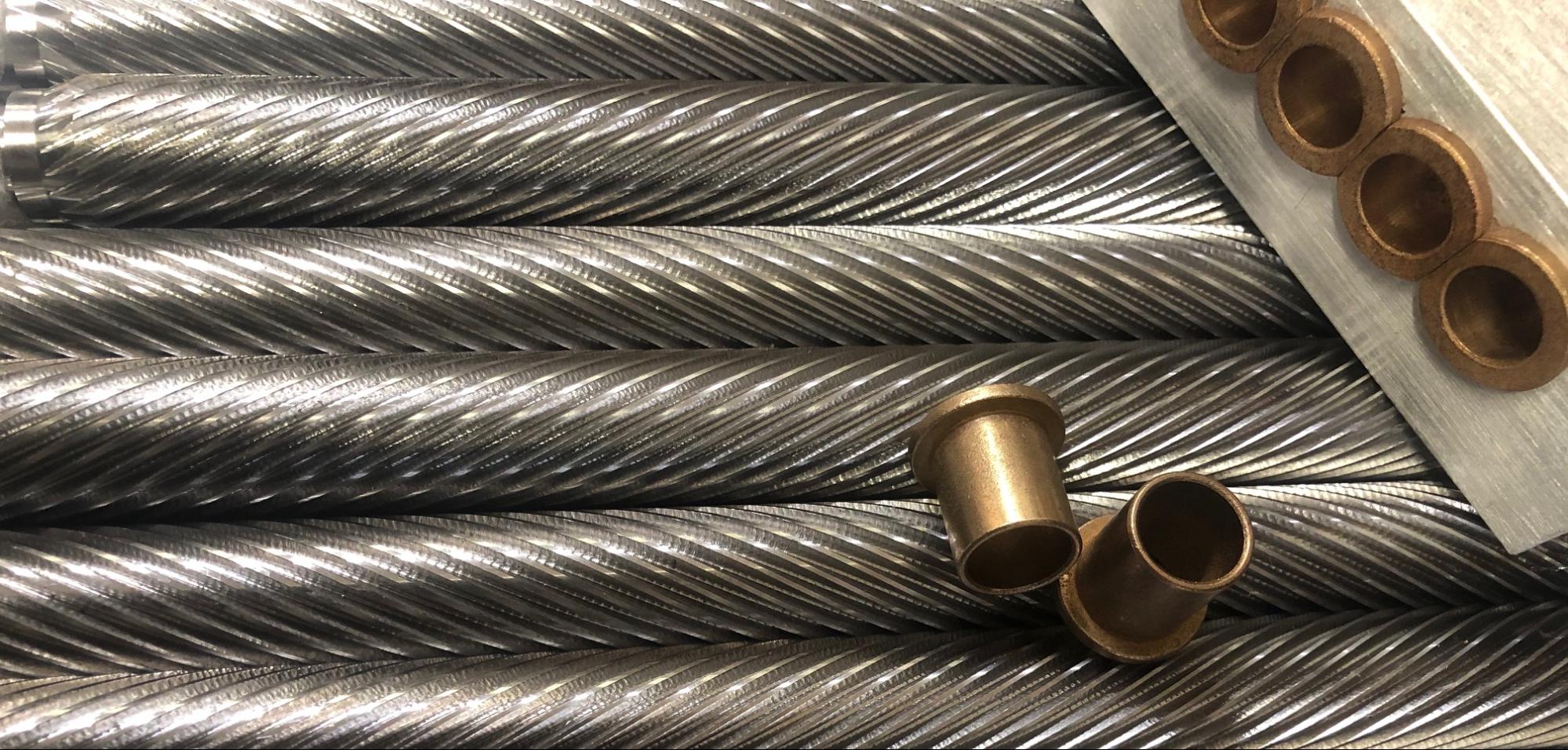 DeLong's Gizzard Equipment was founded in the 1940's by Horace DeLong of Gainesville, Georgia. For more than 50 years Horace and his team established their reputation for installing and troubleshooting poultry processing operations throughout the eastern United States. Building on his unique experience, Horace began to manufacture his own design of Gizzard Peeler Rollers in 1985. By the time of his death in 1992 Horace DeLong had become one of the best known and well respected figures in the poultry processing industry.
Leadership of DeLong's Gizzard Equipment passed from Horace to his daughter Pat, and more recently to Pat's daughter Mary. Four generations of DeLong's have worked to maintain the company's reputation for quality products and customer service.
DeLong's Gizzard Equipment is a manufacturer of poultry processing equipment and the world's leading provider of rollers for poultry and gizzard processing machinery. Our precision-engineered rollers meet or exceed manufacturers' specifications for all major brands of processing equipment. Additionally, our decades of experience make us the leading experts on the gizzard production process. We help our clients maximize profitability by improving work processes and increasing product yield. In addition, our deep exposure to the engineering side of poultry processing allows us to offer various add-on and custom-made products that further enhance the productivity of the poultry processing plant.
Mary DeLong Murray
President/CEO
Mary has grown up in the business and assumed the leadership role in 2006, continuing the familial tradition set by her grandfather, Horace DeLong. To complement her extensive industry knowledge, she earned her degree in Business Management. While being CEO, she also is our Foreign Accounts Executive. Mary understands the family values behind the company and recognizes her responsibility to carry the company successfully through her generation's business environment. Mary's two sons plan to continue the family business tradition upon completing their education.
Robb Murray
COO/Director of Sales, R&D
Robb Murray, DeLong's Sales and R&D Director, has been in the field of equipment research and development for 20 years and is currently heading up our new Red Meats Division. Robb is highly respected in the poultry industry and his product consulting services make Robb's wealth of knowledge available to any firm striving to stay on the cutting edge of our industry. Robb assumed the title of COO in 2008. Robb leverages DeLong's fifty years of poultry processing equipment expertise to increase yield and un-complicate your poultry processing facilities.
Josh Harris
Engineer/Production Manager
As Horace DeLong's grandson, Josh grew up with poultry processing in his DNA. He worked as a general laborer here, as a young adult, and honed his expertise at the Perdue Facility in Perry, Georgia. As DeLong's engineer, Josh verifies that the design and quality of our products are superior to anything in the industry. Josh's commitment to continued product and technology improvements helps ensure that DeLong's customers will enjoy the latest in precision engineered equipment and parts for many years to come.
Thomas Lee Nickles
Sales Representative
Thomas started in April 2016. With nearly a decade of sales experience and his passion for perfection, he goes above and beyond to take DeLong's into the next Generation of "Quality, A Family Tradition". Under Robb's wing, Thomas has built a wealth of real-world knowledge in the poultry industry. Whether its inside sales or in the field with customers, he demands the attention to detail that ensures our customers are satisfied to the fullest.
Trey Murray
Executive Assistant/ Accounting Clerk
Trey has been working at DeLong's since he was a kid and is the son of Robb and Mary DeLong Murray. As a 4th generation DeLong's employee, Trey understands the poultry industry like few his age. Apart from going to school fulltime, Trey currently works closely with Mary, where she is grooming him to be the successor of the powerhouse that is DeLong's.
Ryan Evans
Gear Hob Supervisor
Ryan is a 4th generation DeLong. like Josh, he spent his early adulthood contributing to the Business. Currently, he acts as our Gear Hob Supervisor. The Gear Hobs cut the proprietary angled teeth into the Peeling /Skinning Roller. Maintaining 12 separate machines, his team ensures the proper function of the Hobs and oversees their roller QA process, guaranteeing quality DeLong products are made quickly and efficiently.
Interested in Connecting with Us?